Description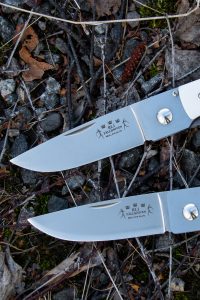 Drop point blade
I'm pretty sure it was the late knifemaker Robert W Loveless who developed the drop point-shaped knife blade, i.e. a blade shape where the tip of the blade falls in a soft line down towards the edge. As a hunter, you can certainly see why the tip of the knife you handle the prey with, should have a rather blunt tip, but I also think that many other users of knives think that a drop point-shaped blade looks nice and safe.
Simple, clean lines
RL1 is a homage, a tribute to this giant in the knife maker guild and if there is one thing I have strived for on this knife, it is simplicity in the design. This, too, was a detail that Loveless cherished and which was his hallmark. I had the pleasure of having a chat with him in the late 1990s and it turned out, among other things, that he had noticed the F1 knife introduced a few years earlier on the world market. I asked him for his opinion on the knife and he "liked what he had seen," he said. To my surprise, he told me that he was happy to draw his inspiration from Scandinavian knives, he said he liked the simple, clean, almost Spartan lines of these knives.
Top steel is the new black
On top of that he also strived to work with really good edge steel and here too he was a forerunner. At least hunters like when the knife remains sharp and today it is powder steel, advanced alloy steel and very special hardening methods that we apply when developing a knife blade that is both strong and stays sharp.
Convex edge unique
I don't think Loveless made his own folding knife, but at least I know he designed some. All of them carry his clear signature, i.e. simple, clean lines, good edge steel, safe blade locking. However, the convex edge is unique to this RL1 knife but it has its explanation. This type of edge is at least a thousand years old and the explanation lies in the fact that it was the strongest and at the same time sharpest edge that could be produced on the edge tools at that time. It was only with the industrialization that flat-ground blades became possible to mass produce and that today is the prevailing manufacturing method when grinding out an edge. As a result, the convex blade shape has almost disappeared in the 20th century.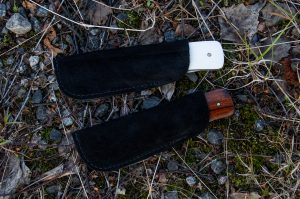 Liner lock for folding knives
I reintroduced this edge shape to my manufacturers in Japan in the early 2000s and today it is the concept that is our standard on our fixed blade knives. RL1 is the folding knife that from the very beginning has a drop point blade profile with a convex edge and is thus a unique piece of art on the world market. To this we have added a blade lock that I consider to be the world's strongest/safest, the so-called liner-lock, where part of the inner construction of the handle is folded in behind the back of the blade when the blade is fully extended. Another detail that may not be noticeable is a small ball on the locking liner that folds into a recess on the blade tang when the blade is recessed and prevents the blade from being folded out without further ado. Making a liner-lock lock is not so difficult but if you are not very careful and know what you are doing, it can all end up in a terrible accident. This is why you sometimes see folding knife models with an extra locking ring, i.e. the manufacturer has not been able to ensure a 100% safe lock. The advantage of a carefully manufactured liner-lock folding knife is the openness of the design, the knife will be easy to keep clean, there are no nooks where dirt and dust can accumulate and that can knock out the safety system. There are no springs that can break, no spaces that can be filled with sand, soil or snow and that can cause the locking to fail. Again, it is simplicity that is the most important factor for the locking to work. And making it easy is extremely difficult and requires an experience and knowledge that does not exist in so many places in the world. So, a really safe liner-lock folding knife is hard to find, only the best manufacturers know about that.
Adjustment possible
The blade bolt is threaded and the reason is that you as a user should be able to adjust with what inertia the blade should be folded in and out. On either side of the blade are two round teflon layers that provide a comfortable blade action and can be replaced if necessary in the future. I now urge no one to immediately start adjusting the blade but give the knife a few months before you try to adjust the blade action. Once the torx nut is dislodged from its original position, you must re-add some thread lock to prevent it from unscrewing or tightening itself. In any case, all bolts and distances are available to buy as spare parts in case you loose something.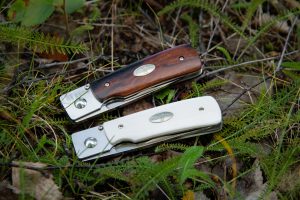 Desert ironwood and elforyn
The base model RL1di has handle scales in desert iron wood and when it comes to the management of this exotic kind of wood, I would like to point out linseed oil-based products, i.e. about the same as for wood stocks for shotguns. Anyhow, any standard wood polish is good enough, it protects the wood from shrinking and from water. After all, wood is a living material and changes if exposed to prolonged drought or water. Desert iron wood is hard and heavy, so much so that it sinks in water, with a density of 1.2 kg/l. The wood we use is not covered by CITES protection. Like all types of wood, it can vary in color, from light brown to dark, veined wood or straight fibers and everything in between. Those with straight fibers are actually the strongest.
RL1ey is a fabulously beautiful version of this fine folding knife, with a unique handle material called elforyn that imitates genuine ivory but does not shrink as easily and is also legal to use. You treat this material with a thin, colourless oil but otherwise no care is needed other than to keep the knife clean and sharp.
Legal to carry?
I always say that if you carry a folding knife, it's a clean, urban way to carry a knife. If you also keep it in a thin leather case, you protect the knife from scratches from other objects you put in your pocket. Just think about where you carry the knife so that you do not violate the regulations that apply to knives in a public place in the country you live in.
Elmax powder steel among the best there is
We have chosen elmax for some natural reasons, partly because it is a Swedish, well-developed and carefully tested powder steel, and partly because this steel is very suitable for knife blades. The problem has been in finding the optimal hardening method, but with good cooperation with Uddeholm Sweden, the world's leading manufacturer of tool steel (for 350 years), we have been able to develop a hardening and tempering method that provides a blade that is both hard and tough. Everything is computer controlled and nothing is left to chance, all batches are tested to check the quality. For example, all blades are cooled to minus 195 degrees celsius to get maximum performance out of each blade. We have tested this elmax steel under the toughest possible circumstances and actually – we have managed to establish marks on the edge after eagerly chopping with an F1x/elmax in dry oak and ash. However, they were no larger than a tenth of a millimeter and we easily fixed that with a fresh diamond whetstone!  So, we believe in this steel and intend to use it increasingly in the future.
Elmax is stainless, not rust free
Elmax is a stainless steel, i.e. a steel that "stains less" and this means that you can get dark spots, shadows or pores on the blade if you expose it to salt, blood, organic acids, etc. and store the knife in dirty conditions in a damp space. Elmax will not rust if you treat your knife in the same way as your weapon, that is if you are a hunter. A clean and dry knife does not rust! If you live near salt-splattered coasts, you can treat the blade with a Marine TufCloth, see our website for more information.
Some good advice
Finally, some simple advice on how to use this knife: I hope no one thinks the knife will be used to split firewood with. No, a folding knife is meant for fine-work and retains its shape and function if used with discretion so, never expose your RL1 to heavy abuse! This is a two-handed, non-aggressive folding knife that, if used and handled correctly, will serve you well as long as you live. Learn to sharpen the knife by hand on an extra fine diamond whetstone or with a genuine ceramic sharpener, a sharp knife is safe to use while a dull knife indicates that it is a dull man who owns it. No, I'm sorry, I was just kidding, sharpening of knives is sometimes a difficult chapter! Feel free to use our grinding service, we have been sharpening knives since the middle of the 1980s and are specialized in convex edges.